When price is a bigger priority than horsepower but you still want features like independent rear suspension, an automatic transmission and fuel injection, there are plenty of options. Hondas Rancher line has been the best selling ATV in this category for years. For that same time frame, Yamaha has held the top spot for large bore machines with the Grizzly 700 and more recently with the Kodiak 700. Now they want to capture the mid class buyer and to do so have introduced an all new KODIAK 450.
Powering the smaller Kodiak is a single over head cam, 2 valve, liquid cooled, four stroke with 421cc. This is the same, torquey engine that formerly powered the Grizzly and Kodiak 450's a coupe years back and was proven pretty bullet proof. The motor under the 2018 Kodiak 450 is fuel injected and the gas tank is mounted in the traditional spot not toward the rear of machine like on the bigger Kodiak and Grizzly. Storage is provided under the seat which can just be popped off and on for easy access. The battery and air filter are also under there and the filter can be removed without tools. Power is transferred out to the tires using Yamaha's great CVT transmission. The machine does not have a front differential lock option. Other than color choices, the options you can choose is to get it with or without EPS.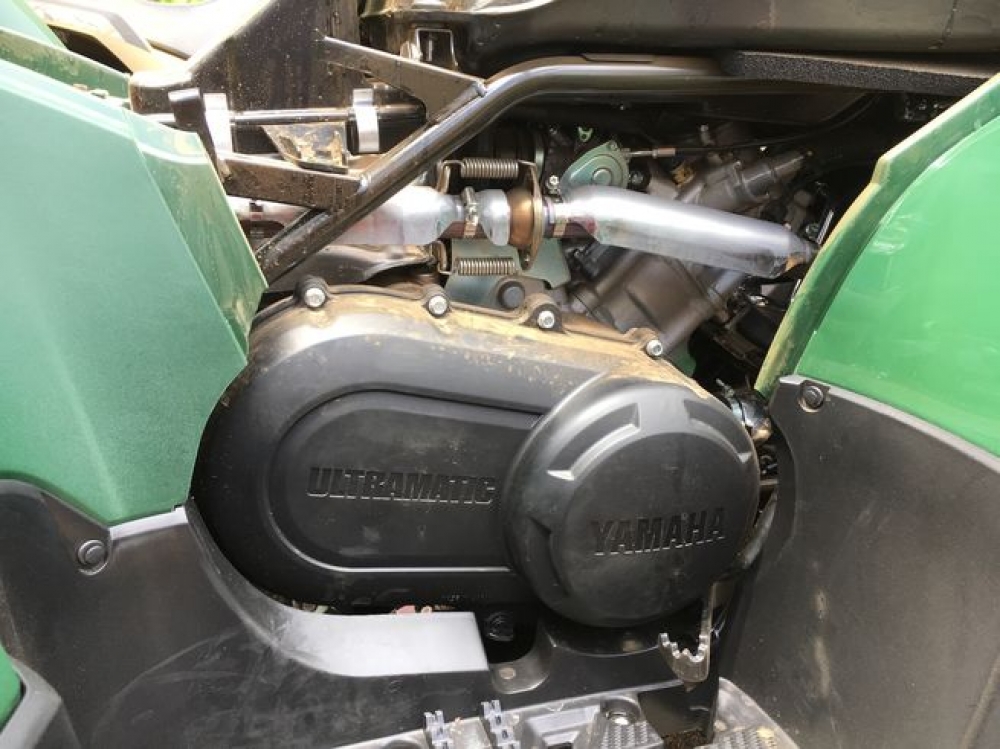 The Ultramatic transmission is a compact version of what is found on the Grizzly and Kodiak 700s. You can access either side of the engine by removing the seat and two push pins with a screwdriver then remove the side panel.
To attract buyers to this bear, Yamaha has added a couple new colors on the aggressive bodywork and several new features. Those colors are called Armor Grey, Fall Beige, which has Realtree camo accents plus green, and red. New to this machine is an easy to read digital display and pre installed wiring for a winch you may install in the future. Plus the holes are pre drilled in the frame to mount any winch plate. The real improvements are in the suspension and handling departments. The A-arms have been widened one and half inches on each side and are now equipped with nitrogen charged, oil dampened, 5-way preload adjustable shocks. This improvement also allowed Yamaha to switch from a 2-ply tire to a stronger, 4-ply tire from CST. Yamaha built a new engine cradle to reduce vibration. The footwells have been increased in size, and the gate shifter has been moved higher up on the left fender. Plus you do not have to put your foot on the brake anymore to shift between gears.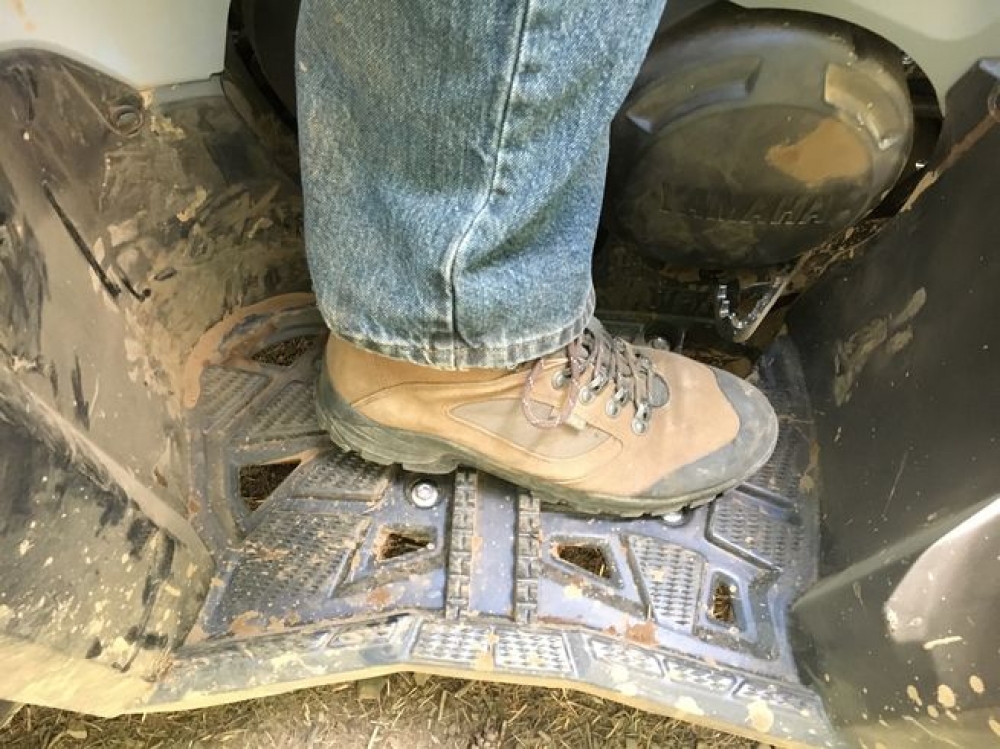 This is a size 10.5 boot. It fits well on the wide footage with plenty of room to spare in the wider floorboard area.
Yamaha still gave the 2019 Kodiak 450 a much smaller chassis when compared to their two 700's. In fact, its actually slightly smaller than the 2017 Honda Rancher 420. Overall the measurements read 80.1" long , 46.6 inches wide and 45.7 inches tall with a seat hight of 33.6 inches and a 650 pound curb weight. So the machine is not just a large chassis with a small motor like what Yamaha did with the Grizzly 550 a few years back and some manufacturers still do today.
Dual A-arms are found on all four corners. with preload adjustable shocks featuring 6.7 inches of travel in the front and 7.4 inches in the rear. Twenty five inch, 4-ply, CST tires help provide 9.6 inches of ground clearance. Braking is provided by dual hydraulic discs up front and a single multi plate disc set up in the rear. Wet brake systems in the rear have the same performance as a drum but are virtually maintenance free. Plus the unit is completely sealed, so there is no chance of water getting into the system and freezing up like you find with drum systems. Finally, much to our liking, separate hand levers are provided to operate the front and rear brakes and a foot peddle that operates the rear only.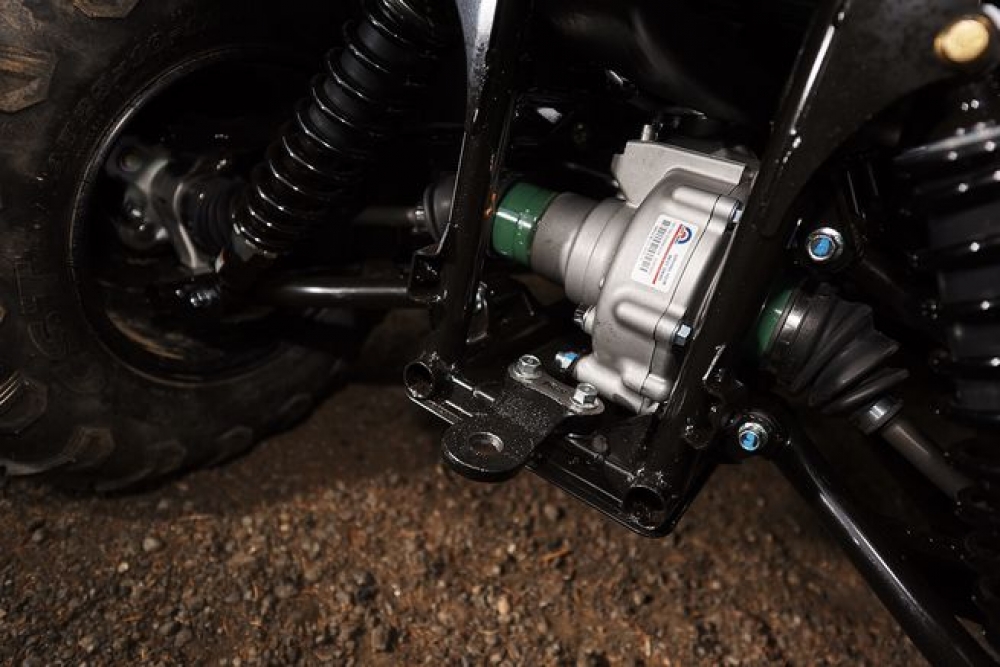 Wet brake systems are about as maintenance free as it gets and will never freeze up in cold weather like a drum can. The rear of the Kodiak comes with a ball mount as standard equipment.
We expect that the majority of 2019 Kodiak 450's sold will primarily be used for work on ranches and farms or even small job sites and for that the machine will be a great investment.After that, the Kodiak should give years of trouble free use.